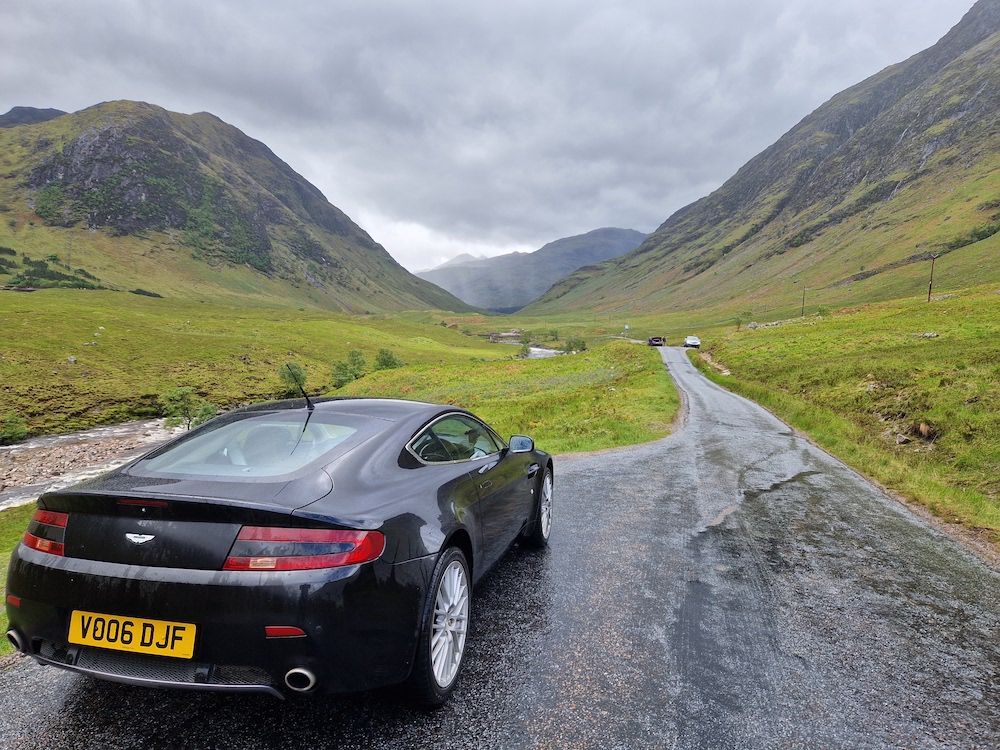 I have been looking forward to taking my sabbatical ever since the perk was announced back in late 2018 and I decided to treat this as a once in a lifetime 1 month break and that I'd do as much as possible! As trail running and hiking are passions of mine I decided to base the sabbatical in Scotland and focus on a 94 mile multi-day of the West Highland Way (national trail). I'm also a fan of cars and was able to hire my dream car an Aston Martin V8 Vantage for 3 days take it on a tour of the higlands and the Isle of Skye.
It was all fantastic! I had such an awesome time running and hiking in all the places that up until then had only read about. I was outdoor a lot and the weather was typically British (lots of rain and cloudy) but it didn't spoil it as I had the right kit and made me appreciate any small glimpses of blue sky.
Highlights:
Finishing the WHW - 93% went really well running a steady pace chatting to walkers and marvelling at the beautiful landscapes. About 10k from the end on the final day a niggle with one of my quad muscles became a real issue . It got too swollen to bend and so I ended up limping the final 10km . It was very painful but for once the sun was out so I took solace from that and combined with all of the pain killers I completed the WHW! and had a well deserved &
Meeting up with family in Edinburgh - for the final week. 3 weeks is the longest I've been apart from them and although we spoke often via video call, it was so good to hug them in person
Eating deep-fried black pudding and Haggis after one of the marathons on the WHW - they deep fry all the things in Scotland! which is an awesome post-run snack and totally guilt-free
Driving my dream car Aston Martin V8 Vantage on the empty (early morning ) twisty highland roads. It's the best car I've ever driven, so precise and planted even in the very wet! but above all the sound of the engine/exhaust was amazing! (see this video - needs sound!) big smiles throughout the 650 miles of driving over 3 days.
Canoeing on the black/still waters of Loch Leven - One of my Airbnb hosts offered to take me out on the loch and even though I was knackered after a day's hiking I couldn't say no and so glad I did, it was so atomosphereic/magical.
Walking tour in Bruges with friends followed by Belgium beer tasting
| WHW Start | WHW food | WHW end |
| --- | --- | --- |
| | | |
Lowlights
The fuel bill for the Aston Martin! OMG! I thought the fuel tank had a hole in it
I didn't get a chance to climb Ben Nevis , the UK's highest peak as I was resting my swollen quad after limp-gate but I'm looking forward to conquering that in the future.
Stats
Running: 181km (112miles) total running along the West Highland Way and in the Cairngorms - happy to say that my quad muscle is feeling allot better.
Hiking: 8 hikes in Peak District, Lake District, West Highlands, Isle of Skye and Cairngorms.
Driving: 2350 miles (650 in the Aston Martin) - From Bristol to Belgium and Scotland and back. Planning to offset these emissions with some tree planting similar to what Help Scout does for new customers.
Thanks
Just wanted to finish up with the big thanks to Help Scout for the opportunity and the mobile team for covering for me while I was away and creating super useful welcome back document. Also huge thanks to my wife for looking after the kids for 3 weeks. I've used all the favours for this year! and had to conceed to family pressure to getting another cat/kitten